Website Design
Services
Rainbo Design offers three affordable website design packages starting at under $300.00. Choose the package that suits your needs and budget. I also help on the marketing side for small business with my Search Engine Optimization service. And if you have an existing site that needs repair or design makeover, I can quickly get your site working for you again for a real return on your investment in time and money. Call Richard Trethewey at 612-408-4057 from 9AM to 5PM Central time to discuss your needs.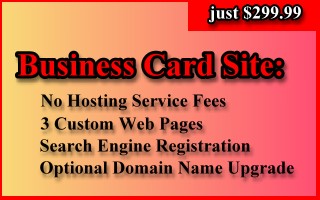 This is my simplest design package. It is best suited to small businesses and organizations who just need to make their most essential information available online: the business' name, address, telephone number, hours of operation, and a description of their products and services. I call this my "Business Card Design Package". This package includes a custom design with a contact information page, a company background page, and 2-3 additional pages to provide some details on what the business has to offer. This basic package can be upgraded to include your own domain name for a small additional fee. Details…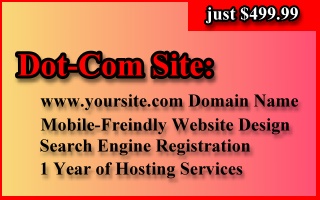 The Dot-Com Website Design Package is for businesses who want a showcase on the Internet with their own "dot-com" location with a web site that can tell more of their story than just the basic facts. It's a good choice for any business that wants to entice customers to call or visit in-person by displaying their best products or examples of their services, but who may not need to sell anything directly over the Internet. It's also suitable for businesses, organizations, and individuals that want to build an information outlet for clients, visitors, or members. A website with its own domain name helps establish your company's brand and presents a professional appearance, as well as providing a platform for offering expanded interactive services like a blog, forum, or photo gallery and does support limited online sales capabilities. Details…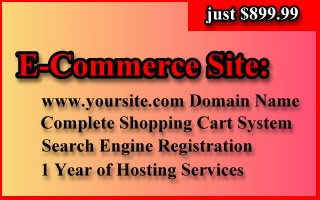 The ECommerce Website Design Package is for those who want to take full advantage of the Internet as a means to sell their products. This package is not only capable of displaying your complete product inventory in a professional manner with pictures and more, it will reliably and securely process orders online just like major companies such as Dell, Wal-Mart, and Amazon.com do. You're put in complete control of your online shopping cart system so you can update products, pricing, and promotions at any time. You get a complete marketing platform that handles sales and inventory, gift certificates and coupons, and newsletters. And, best of all, it's easy to operate! Details…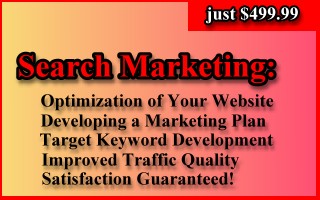 My Search Engine Optimization Service will get your site well-positioned in the major search engines like Google and Bing so that your potential customers and clients will find your website when they start searching the Internet for the products and services you offer. I can help your business stand out from the millions of others in the major search engines. Start getting your fair share of the traffic from search engines by signing up for my affordable search engine optimization services today! Details…
I am experienced programming in JavaScript, PHP, and Perl, the three most important programming languages for the Internet. I also offer design and custom programming support services for MySQL database systems as well as installing blogs, forums, photo galleries, and shopping cart systems like osCommerce and Zen Cart. My custom programming services can make your website easier to use, provide information to your clients in a more flexible format that leads to more sales for your business. Details…
For existing websites, I can help with all design issues, mobile compatibility problems, as well as repairing scripts. When your website looks broken, it drives away visitors and damages your business' reputation. If your original designer has let you down, I can rescue your website and turn it into a showcase for your business that you'll be proud of. And if your site has been hacked, I can quickly remove the malware for an affordable fee, based on the size and complexity of your website. Details…
Website Design & Repair Fees
Changes and updates to existing websites are offered at my Standard Website Design Fee, which is currently $50.00 per hour with a half-hour minimum. Most minor updates for things like a change of address or telephone number and adding or changing a few graphics, are easily handled within the half-hour minimum. I specialize in website repair, which includes fixing problems on an existing website, custom programming, and other upgrades and enhancements. Initial consultations are done at no charge.