Shopping Carts for
E-Commerce Websites
The foundation of any Ecommerce website is the shopping cart software that makes everything happen. I use several different shopping cart programs, depending on the needs of the client. A good shopping cart program has to be secure, reliable, well-supported by the vendor and third-party developers, and it must be designed so that small business owners without a technical background can use it easily. Once you've read this page, be sure to see my E-Commerce Website Design package for more details on getting your own e-commerce website online.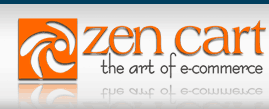 My first choice for clients is always Zen-Cart© by Zen Ventures. It's a free, open-source shopping cart that runs well on any server and has all of the features needed to create an attractive, reliable online store. It gives you excellent control over the appearance of your website so it is easily accessible by desktop and laptop computers, as well as tablets and smartphones. I can create custom Zen Cart© templates that make your online store attractive and easy to use, and not look like every other Zen Cart© website. Zen Cart© comes with built-in features like gift certificates, discount coupons, and customer newsletter support. There are many third-party Zen Cart SEO plugins available to enhance it's appearance and performance in the search engines. And if you already have a website built with osCommerce©, I can transfer your osCommerce© database to Zen Cart© so you can move your online store to this superior platform seamlessly without losing any important product, customer, or sales data.

osCommerce© is the oldest open-source shopping cart program on the web. It's used by tens of thousands of websites today. There was a long lapse in support for this program, but the authors recently updated it to bring many long-awaited features. It, too, has a library of add-ons available. If your website is currently using one of the older versions of osCommerce©, I can help you upgrade it to the current version without losing any of your current product and customer data.
For businesses that only need to sell a small number of specific products or services (even downloadable products), PayPal™ Payments Standard offers a convenient, low-cost way for small businesses to add secure online purchasing to their existing website. Customers do not need a PayPal™ account to make payments with PayPal™ Payments. They can use a credit card or withdrawl funds directly from their checking account with an electronic check. And there are no monthly charges for you as the merchant - just a small transaction fee. Learn More About PayPal Ecommerce Options.
PayPal™ is also my preferred choice for the online payment processor for Zen-Cart© and osCommerce© websites. Both packages come with PayPal™'s own software built-in, so everything is handled easily and securely. The company is a division of eBay™, and is trusted by customers worldwide.
For clients with special needs, I use my own RainboCart© software. This is a software package I developed myself that I can easily customize to suit clients whose products or services don't fit into the conventional ecommerce website model and for experienced webmasters with a good technical background that want something more powerful than conventional shopping carts. RainboCart© is designed for optimum performance in Google, and integrates with many of their special services for merchants and webmasters.
Imagine having a store that's open 24 hours a day, 7 days a week, serving customers all over the world. That's the power of an ecommerce website and today's shopping cart programs. Your website can showcase your business' products, calculate the shipping charges, record the orders, process the customer's credit card, and more. And it's all under your control. You can add new products and new product categories, update prices, create sales, or send out promotional mailings. It's all handled by an online control panel that you can access from any computer connected to the Internet.
Together, we can make it happen. Don't wait another minute. Call Richard Trethewey at Rainbo Design in Minneapolis today at 612-408-4057 to get started on your affordable Ecommerce website!