Affordable Ecommerce Website Design
Easy To Operate & Maintain
Secure Customer Shopping
Accept Major Credit Cards
Customizable Product Options
Product Search & User Reviews
Coupons & Gift Certificates
Newsletters
An ecommerce website is one of the most efficient tools ever devised for selling merchandise and services. An ECommerce website can be an amazingly effective means of selling your products and services to customers worldwide who would otherwise never know your company exists. Having your own E-Commerce website is like publishing a full-color catalog and doing a targeted mailing to every person on the planet who has access to the Internet. Your online ECommerce store is open for business 24 hours a day, 7 days a week, providing an attractive presentation of your products.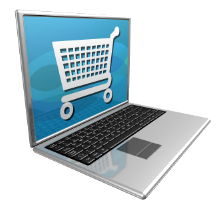 Many small business owners think that a website is an expensive investment that only makes sense for large companies who can afford the technical staff to run it. I can design an attractive ecommerce website that will not only showcase your products, but will also allow you to sell to customers whether they live around the corner, in another state, or on the other side of the world. Once the initial design work is completed, you and your authorized employees will be able to operate and maintain it. And when your site is ready for the public, I submit it to the major search engines so that potential customers can find you.
An ECommerce website provides your business with an automated electronic storefront just like other online shopping sites like Amazon. Your site will have enough capacity to showcase all of your products and services, communicate with your customers easily and efficiently, and securely keep complete records of all transactions and create useful reports.
ECommerce Website Design Package Features
Custom ECommerce Website Design with your logo/color scheme.
Custom EMail mailboxes - for example, "sales@yourcompany.com" and "you@yourcompany.com"
Custom information pages for your company's profile, ordering terms, contact information and more.
Shopping Cart installation and set-up, with capacity for thousands of products.*
Secure ordering with online credit card processing.
Administration System lets you add or remove products, update prices, etc. at any time.
Product options for sizes, colors, etc.
Sales/discount promotions on single products or entire categories
Gift Certificates and Coupons
Support for downloadable products.
Submitting your site to the major search engines so that shoppers can find your site online.
FREE 1 Year Hosting!*
FREE domain name - "www.yourcompany.com" - registered for 1 year!*
FREE updates and maintenance for the first 60 days!*
All for Just $899.99!

I make affordable ECommerce websites easy for you and for your customers. The website I design for you will give your customers the confidence that they can trust your site with their credit card numbers and other personal information. And it's simple enough to allow you to run it without any computer training or expertise. You can add, edit, or remove products, manage your orders, and more as you like! My ECommerce Website Design Package includes:

You can see examples of ECommerce sites I've designed at Dharma Yoga and Meditation Tools, French Presents, or Push My Buttons Executive Toys. If your business' target market is simply here in the Minneapolis/St.Paul area, another city, or you have customers across the US, an Ecommerce website will allow you to present your products to the ever-growing number of people who rely on the Internet to find what they want.

* The E-Commerce Design Package includes the design, initial installation of all software, entering of up to 25 products into the shopping cart system, and 2 months of routine maintenance and minor updates. The client is required to provide all product information and digital photographs. Additional fees will apply following this period at my standard hourly design rate, currently $50.00 per hour, for any additional services requested. I will select the shopping cart software and website hosting service that best fits your business' needs. You will be responsible for the ongoing hosting and domain name registration fees after the first year of service. These fees typically run about $125.00 per year, including domain name registration, website hosting and SSL Certificate fees.