Dot-Com
Design Package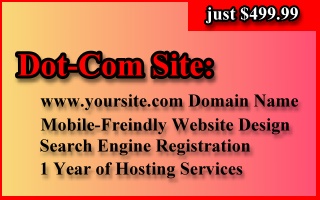 My Dot-Com Website Design Package is perfect for any small business that wants an affordable, full-featured website to promote their company's products or services, and for organizations that need a versatile, professional online presence, but don't need the full online sales capabilities of an E-Commerce website. You can display your products or special skills and services, add a blog to publicize news about your business, or include a portfolio of your work using an online photo gallery. Whether your target market is here in the Minneapolis/St. Paul area, all of Minnesota, the United States, or the whole world, this package will present your business with a custom-designed website that will uniquely reflect your image. It includes your own domain name to provide brand awareness and trust, with unique Email addresses and plenty of capacity to showcase your products and services.

Competing in the modern world requires a thoroughly credible online presence, beginning with an attractive and effective website. When people are looking for a business like yours, they're far more likely to turn to the Internet than the Yellow Pages. So whether you simply offer services or have products to sell, you need to be findable in the search engines and online directories through a website of your own that has answers those basic questions: what you do and where you are in the world. And does so in your own words with your own unique personality.
Whether you have an established brick-and-mortar business or just starting a new side venture with a limited number of products, you can sell them online with this package using the PayPal™ Shopping Cart, which gives your customers the ability to make purchases with their credit card without requiring a merchant account and the extensive capabilities of a custom Ecommerce website.
Once I've designed your website, you are given complete control over it so you can update, expand, and enhance it as you please. You can make changes yourself or have someone else do it for you. Naturally, I expect that you'll like my work well enough to hire me if your website design ever needs changes or additions, but everything is under your complete and absolute control. All account names, User IDs, and passwords are available to you, so you are always in complete control. It's your website and you own it.

Minor changes and updates are free for the first 60 days to allow you time to work with your new website. After 60 days from the completion of the website design, my Standard Website Design Fees apply at my standard hourly rate (currently $30.00 per hour with a half-hour minimum), for ongoing maintenance and expansion. Most minor updates for things like a change of address or telephone number or adding additional Email addresses are easily handled within that half-hour minimum.

Dot-Com
Website Design


Package Features
Custom website design detailing your company's name, address, telephone, business hours, your company's background, and pages highlighting your products and services.
Mobile-friendly design so that smartphone and tablet users can easily use your website.
All photographs you provide are professionally enhanced & inserted appropriately in your website.
Contact Form with SPAM blocking so you only get the Emails you really want.
Submitting your website to the search engines so users can find your new website.
FREE One year of hosting services with your own domain name ("www.yoursite.com").
All for Just $499.99!