SEO Tips & Tutorials
The SEO Tips & Search Engine Optimization tutorials presented here are intended as a quide for webmasters who have issues with the performance of their website in the search engines. You don't need to be a technical wizard to understand and use them. These articles present basic optimziation techniques for website designers of all levels of experience: from those who are just starting a new website to experienced webmasters who have seen their search engine performance decline and want help to recover their prior ranking. These tips and tutorials are not shortcuts to higher rankings. The goal here is to increase qualified traffic to your website that's sustainable by teaching you the basic principles of search engine optimization as well as presenting vital information to avoid ranking problems and penalties. Anyone with even a modest knowledge of how websites are created can follow my advice and do very well in the search engines.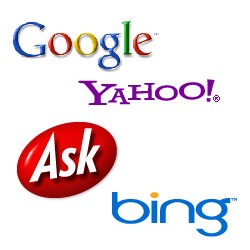 I always advise webmasters to take a simple approach to search engine optimization. Don't try to beat the system because it's a losing proposition. The tricks that work for one website don't always work for another site. Frustrated webmasters often see websites that use so-called "black-hat" optimization methods and think they should copy them. But the problem is that you can't tell if a website has good rankings because they used a trick or in spite of it. Any webmaster with enough awareness of SEO that they try to fool the search engines is probably doing many things to improve their rankings. And if you're not careful, you may end up copying an optimization technique that will eventually lead to problems as the search engines improve their algorithms.
The best way to get sustainable rankings is to start with high quality original content, and then give your website a good foundation with proper HTML mark-up, useful page titles and headlines. Then work on promoting your website online to encourage other webmasters to link to your website. You need to "prime the pump" at the start to get users to visit your site. There's more, to be sure, but if you start with these ideas you'll be well on your way to a sucessful website. Here are my essential SEO Tips to get your website started out on the right track:
Beginners' 6 Essential SEO Tips
Here are 6 fundamental areas that beginners should focus on when they first start to work on improving their website's rankings. These are the things you need to do in order to give your site a firm foundation for good performance.
Fill your site with quality original content. Your aim should be to be a reputable resource for your website's topic and to provide a good user experience. If you don't have quality content, nothing else you do will really help. Any visitors you do get will leave your site quickly, and no other webmasters will link to your site.


Make sure your website works properly by testing it.

View your site with all of the most popular desktop browsers.
Make sure the website accommodates mobile devices - smartphones and tablets.
Validate the HTML and CSS.
Make sure all of the links are valid by testing it with Xenu Link Sleuth




Make your page <title>s concise and relevant. Don't stuff them with keywords. This is your first and best opportunity to attract search engine users. Don't waste it by trying to include every possible keyword.


Compose your <meta> description tags to entice users to visit your website. Let them know why they should click on your website before trying the other sites in the search results.


Compose your <h1> tag to reinforce the topic of your page with appropriate keywords. You're largely repeating the <title> but saying it in a different way.


Promote your website positively by engaging with the user community at large through forums, blogs, and social media. Spread the word that your website has something valuable to share by actively contributing to the conversations. Really participate, and don't just carpet bomb other sites with links.


With my SEO tutorials as your guide, even beginners can do their own basic search engine optimization. Novice webmasters should start with "Preparing Your Website", where you'll find the basic information to put your new website on the road to good search engine rankings over the long term. Another good source of basic advice is Google's SEO Guide For Beginners. Google's guide to SEO offers great insights into how they evaluate websites as well as a good deal of sound fundamental advice.

If your website has recently developed a problem with its search engine rankings due to changes in Google's ranking algorithms over the past few years, the menu on the right lists my tutorials that explain many of the most common ranking problems and will show you how to repair them. Each one is a step-by-step explaination of the issue involved and includes an easy-to-follow guide to how to repair the situation. If you can't find the answer you need in those tutorials, you can contact me with your question by clicking on the "Talk To Me" link in the bottom of this page, and I'll try to help.
This page was last updated on February 11, 2016
Need More Help?
You'll find more SEO Tips on the menu on the right side of this page.
You can also contact me with your SEO questions.

If you can't fix your website search engine problems on your own, my Search Engine Optimization Services can give your website what it needs to get your business' fair share of search engine traffic quickly, without disturbing your website's design, and without breaking your budget.

Call Richard L. Trethewey at Rainbo Design in Minneapolis today at 612-408-4057 from 9:00 AM to 5:00 PM Central time
to get started on an affordable website design package or search engine optimization program for your small business today!