Mobile
Website Design
Mobile use of the Internet has exploded in the last few years. Cell phones have long been able to do basic website browsing, but the introduction of the Apple iPhone™ in 2007 was a game-changer for website design and development. The world suddenly began to access the Internet with a wide array of new portable devices that they carry all day long. Users are doing more with their mobile devices every day, and you need a mobile-friendly website design to meet their needs.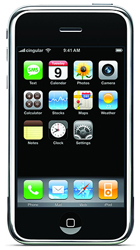 The iPhone allowed users to have a browsing experience that nearly matched what desktop and laptop computers provide - even on websites designed over a decade ago. Followed soon by smartphones powered by Google's Android™ software, millions of people were suddenly taking advantage of the convenience of mobile browsing. And since the release of the iPad™ in 2010, the mobile audience has given people access to the Internet in even more places. And according to InternetRetailer.com, in 2012, Black Friday shopping with mobile devices grew 155% over 2011. And Cyber Monday mobile traffic grew that year by 102%. And it has continued to grow every year since! These days, many websites report that over 40% of their traffic is from mobile devices. So what does this mean for the future of your business' website?
It means that mobile website design isn't just for the future. It's essential right now! It's especially important for businesses aimed at local communities. Even if your website doesn't sell products online, the design needs to be flexible enough not to force mobile users to frequently zoom in and out, or put up with a limited view of your site. Mobile users won't stay on websites that are slow or difficult to use on their smartphone or tablet. Many of your competitors' websites already work perfectly with these new devices, so you need to be sure that your site is designed to handle this vital audience segment with features specifically tailored to their needs, such as "tap-and-dial" that lets them call your business with a simple tap on the screen.
Whether you need an entirely new website or your existing site needs to be upgraded to be mobile-friendly, I can help you capture this growing audience. The search engines can detect mobile-ready websites and they give those sites more prominent positioning in the search results for mobile users. So, if your target audience is mostly users seeking local products or services, having a mobile-friendly website is vital to your site's future success.
Simple • Elegant • Effective • Mobile-Friendly