Minneapolis
Website Designer
Rainbo Design is an independent website design company located in Minneapolis, Minnesota. It is owned and operated by me, Richard L. Trethewey. I have over 20 years of experience in website design, programming, Internet Marketing, and social media, and I always guarantee your satisfaction.
Yes, I've been a website designer for a very long time and I have many satisfied clients. In fact, my first client is still with me. Our businesses have grown alongside each other. They first hired me because their original website designer went out of business and left their custom E-commerce system in a shambles. I was able to repair their software and make significant changes in the site design to make it easier to use. I just completed a complete redesign of their website to accommodate the massive changes running through their industry thanks to companies like Amazon. More recently, many of my clients have had their site updated to be mobile-friendly so that it is available to the millions of people who rely on smartphones and tablets to browse the Web for products and services.
I provide simple, effective, and attractive website design services for small business. I have a broad range of technical knowledge and a great deal of experience in retail environments from major department stores and single location companies, right down to small home businesses. So I know how to choose the right amount of online capabilities for businesses of all kinds and sizes. I also work with clients who are professional service providers whose online needs are all very different.
Please see my Design Services page for details about the specific services I offer. But the best way to discover what I can do for you is to call me at 612-408-4057 for a free consultation with no obligation. My goal is to deliver a great website - all the site you need at an affordable price. Thank-you!
---
My History in Minneapolis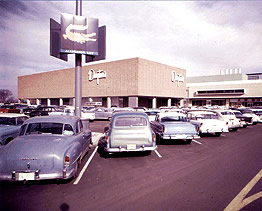 This is my history in Minneapolis, MN and my strong connections to the city. It's admittedly a self-indulgent biography, but it details my experience with computers and business.

I was born in Minneapolis in (as I heard on TV last night,) nineteen-hundred-and-none-of-your-business. Let's just say it was the Eisenhower decade. For the first 10 years of my life, we lived in a small house in south Minneapolis on Washburn Avenue, near the border with Edina. My parents and older sister made us a stereotypical American family of that era. Our neighborhood was straight out of "Leave It To Beaver" where the streets were lined with other young families with stay-at-home moms and lots of children. And, yes, we all knew each other, played together, and went to school together - we Catholic kids went to Christ The King and the heathens (as my grandmother would say) went to Armitage School. Of course, we walked to school and up to the corner grocery store and the neighborhood drug store in all seasons, although on the coldest winter mornings my mom would drive us to school. Though the nearby suburbs of Edina and Richfield were blossoming, our part of the city wasn't yet fully developed. The block kiddie-corner from our house was essentially empty. We called it "The Swamp" because that's what it was. I grew up seeing the construction of Southdale Shopping Center and the Crosstown Freeway, both very much nearby our house.
As my sister and I grew older, our family outgrew the house on Washburn, and in 1963 we moved less than a mile to a larger colonial style house nearer Minnehaha Creek where I live today. Just 10 years old, I immediately loved the new house because it had a breezeway, and a kitchen with a nifty built-in oven that had that Space-Age look about it, and several light fixtures were on pull-down extensions. Best of all, the yard was full of trees and shrubs, and we were just a half-block away from the grocery store and other shops at 54th and Penn Avenue that were much bigger and fancier than the corner stores near our old house. By that time, I was attached to my bicycle and the new house was just a short ride to Lake Harriet, where my best friend Byrne Keefe and I would often go for a swim on hot summer days. My dad would sometimes take me fishing at Lake Calhoun, which was also nearby. We fished near the sailboat docks adjacent to the bandshell, so we could listen to the music in the evenings while we fished - not that we ever caught anything.

After grade school, I went to high school at De La Salle on Nicollet Island in downtown Minneapolis where I had my first classes in computer programming in my junior and senior years there. My dad, William D. Trethewey, worked at the University of Minnesota as a research scientist at the Mines Experiment Station (now the Mineral Resources Research Station), so we rode the city bus together every morning. That was the time when I grew to really dread Minnesota winters because the bus only went as far as Hennepin and Washington and I had to walk the rest of the way - across the Washington Avenue bridge over the Mississippi River. On the coldest mornings, like many of my fellow Islanders, I'd walk through the Great Northern Railroad depot just to get a brief thaw before heading over the bridge. We were a one-car family, so when I became old enough to drive, getting the car for the day was a treat!

After De La Salle, I attended the University of Minnesota where I studied math and computers. In (gulp!) 1974, thanks to my interest in professional photography, I got a job as the Assistant Department Manager in the Camera and Office Equipment department in the Montgomery Ward store in Southtown in Bloomington. I was responsible for monitoring price changes (which were endless in that era of high inflation), inventory control, and ordering products from vendors including Kodak, Polaroid, Texas Instruments, Smith-Corona, Casio and others. I learned a great deal about sales and retail store management there. That job turned into the start of my career with computers when in 1978, a pioneering personal computer company called Ohio Scientific started an experimental program selling their computers in our Office Equipment department. After a year or so, Ohio Scientific opened a franchise department several Montgomery Ward stores nationwide, and they hired me to be the manager of the store in Bloomington. That experience and access to equipment allowed me to start freelance computer programming, which I did for three years when my life changed. I met someone online.
Even back then in the Stone Age of personal computers, there were online services with forums and chat rooms. I got hooked on the chat room on CompuServe they called their "CB Simulator", where I found a great bunch of interesting people. As you can imagine, back then females were a rare commodity online, and there was one particularly funny and clever woman there with the handle "Ms. Rainbo" who was the belle of the ball there. She lived in the San Francisco area, and in the summer of 1982 our little online group decided to all meet face-to-face for a party. Most of the group lived in Los Angeles, so I flew out to San Francisco, met Maggie/Ms. Rainbo, and we drove down to Los Angeles together for the party. It was barely a year after that when I moved to the Bay Area where I lived for nearly 25 years. Maggie created Rainbo Electronic Reviews in 1979 as a book review program on the local community cable television station where she was the manager. She got CompuServe to showcase their service on her program, and they asked her to be a regular personality on the CB Simulator. Maggie ultimately moved Rainbo Reviews online there, too, and I helped her with the technical side of things while working on my own freelance projects. We started a couple of additional small businesses, like Rainbo Animation Art which sells collectibles, all of which included the "Rainbo" moniker.
My life changed dramatically when Maggie passed away in 2007. My dad had died in 2003, leaving my mother on her own in that two-story colonial. Mom was in her late 80's and her health was deteriorating. My sister Donna was married and living in St. Paul. She had done an amazing job taking care of Mom while also having to take care of her husband Jim, who had significant health problems of his own stemming from his career in the Marine Corps in Viet Nam. So, since I was alone and my "job" was portable, Donna and I decided it would be best if I would move back home to take care of Mom. But Mom's health just got continually worse and she passed in December, 2007.
So here I am, back in south Minneapolis and living in the house I grew up in. The city has changed in so many ways. Even though I visited twice a year and so I was peripherally aware of the changes as they came, actually living here again is an adventure. After living for two decades in the Bay Area where it took at least 45 minutes to drive anywhere, it's been a real challenge getting used to the Twin Cities again where I can get to most destinations in just 20 minutes or less, despite the enormous increase in traffic. I enjoy walking around the lakes, checking out new things Minneapolis and the suburbs, trying my hand at painting the house and garage, doing a bit of yard work, and searching for a decent Chinese restaurant in my neighborhood. While there are many things (like great Chinese food!) that I miss about the San Francisco area, where I lived just a stone's throw from the Pacific Ocean, Minneapolis is definitely my home. You betcha!
Call Rainbo Design in Minneapolis at 612-408-4057 to get started on your affordable website design package today!